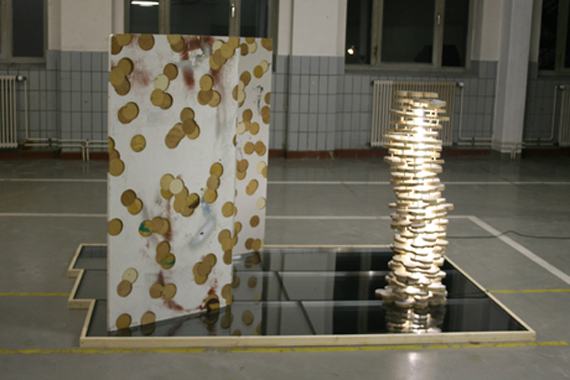 ample scope 2010

Hartfaserplatten, Doppelglasscheiben, Leuchtstoffröhre mit der dazugehörigen Elektrik,
Holzdübel, Holzleim, Heißkleber, Fichten- Kiefernlatten
Glasfläche variabel
Stehlampe Höhe: 125 cm
eine Art Wintergarten auf ausrangierten Nahverkehrsscheiben. Die Objekte sind geformt aus alten farbbespritze Hochschultischen. Die Fehlstellen des Paravent sind aufgefüllt mit Resten aus der Arbeit "Himmel oder Hölle" und bilden gleichtzeitig die organisch geformte Lichtsäule.
Hardboard panels, double glazed windows, fluorescent tube with its associated electronics,
Wooden dowels, glue, hot glue, spruce pine slats
Glass surface is variable
Floor Lamp Height: 125 cm
a kind of conservatory on discarded discs transport. The objects are formed from old spotted high school desks. The defects of the room divider are filled with left-overs from the work of "Himmel oder Hölle" and also form the organically shaped pillar of light.
2010